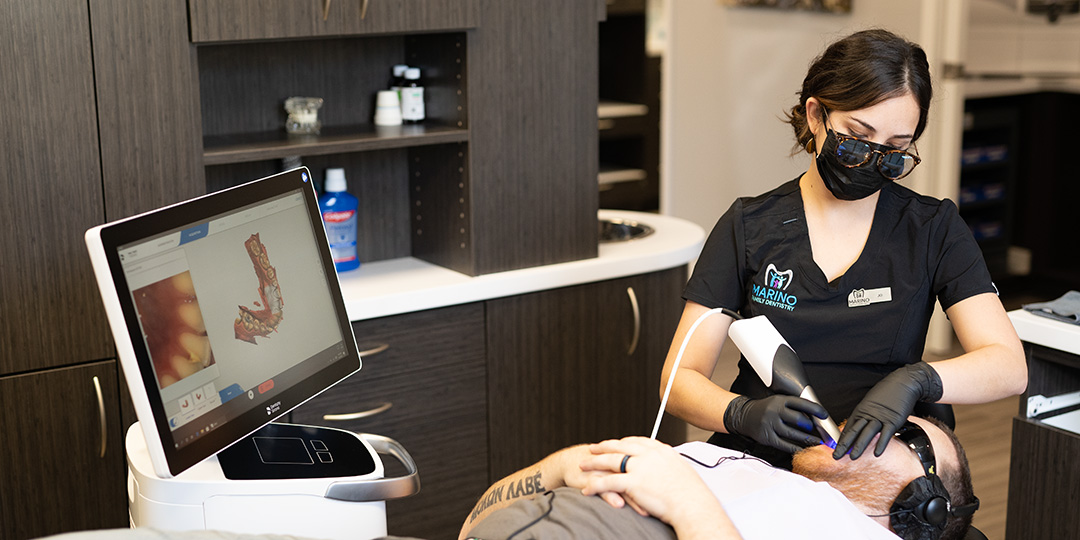 Our CEREC® in-office technology eliminates the need for an outside dental lab when it comes to the fabrication of a new dental crown. Instead of waiting for the final product over the course of several days or weeks, our Greater Jacksonville, FL, dentist can use our personal milling machine to craft your crown from a very strong ceramic material in one appointment.
Learn more about how CEREC same-day crowns differ from the standard option.
How CEREC Crowns Compare
Traditionally, creating dental crowns has always involved multiple visits. During the first appointment, the tooth receiving the crown is prepared, digital impressions are taken, and a temporary crown is fitted until the permanent version is ready.
CEREC crowns, on the other hand, promise less waiting time and the ability to leave with a restored tooth the same day that you arrived. Dr. Marino knows that not everyone wants to deal with a temporary crown. This is why, in addition to porcelain crowns, we use a hand-held digital scanner for impressions and a computer-assisted milling machine to create a finished crown in one session.
Once Dr. Marino has the precise specifications for your restoration, the impressions are sent to a nearby computer where the crown can be further customized and designed. The computer and the milling machine then work together to sculpt your crown from a block of strong, tooth-colored ceramic. While this is happening, you are welcome to relax and utilize some of our comfort dentistry services like streaming your favorite show or movie.
After fabrication, the crown is inspected thoroughly before it's placed using specialized bonding techniques and materials.
CEREC Crown Benefits
Unlike some other traditional crown options out there, CEREC crowns are:
Free from any metal
Natural-looking and the same shade as your existing tooth enamel
Able to be placed within the same day they are made
Strong, durable, and long-lasting
Have Your Smile Beautifully Restored
Our dentist serving Orange Park and Greater Jacksonville, FL, can give your smile a renewed sense of strength with a same-day CEREC crown. Want to learn more about this procedure? Call Marino Family Dentistry today at (904) 269-2185 to request an appointment.
Get Started Today
Feel free to contact us today regarding any questions and to schedule an appointment with our dentist serving Greater Jacksonville, FL. We look forward to helping you with all your dental needs.