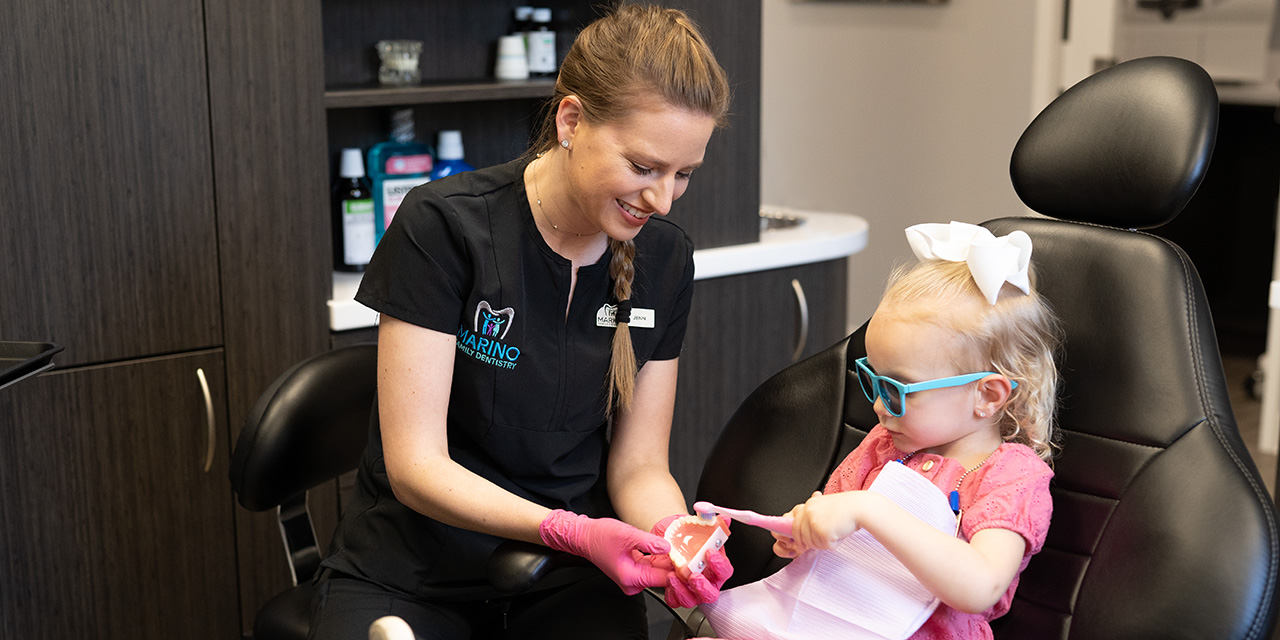 Growing mouths deserve quality dental care too! That's why our Greater Jacksonville, FL, dentist welcomes children of all ages to receive teeth cleanings, cavity protection, and restorative services if needed. Pediatric dentistry encourages parents and kids to embrace the importance of oral health early and get in the habit of keeping smiles clean.
Why Baby Teeth Are Important
Because baby teeth eventually fall out, many people think they don't matter. Despite their limited time in your child's mouth, baby teeth are immensely important for 3 reasons. One of those reasons is that they serve as placeholders for incoming adult teeth. If teeth are lost prematurely, the open spot left behind can cause oral issues such as crowding.
Baby teeth also help your child learn to speak and form words properly. When teeth are absent, it can be difficult to make certain sounds and communicate effectively. Lastly, missing or decayed teeth can translate into your child having a hard time chewing. This can lead to nutritional deficiencies over time if certain foods are left out.
Moreover, if an untreated infection arises in one or multiple teeth, it can spread to other areas of the body and possibly be life-threatening. Dr. Marino recommends avoiding scary medical complications altogether by encouraging your child to brush their teeth at least twice a day, floss daily, and come in for regular cleanings.
Our Approach to Pediatric Dentistry
When it comes to preventing future dental complications and getting your child started on the path to good oral health, pediatric dentistry is critical. We recommend scheduling your child's first dental appointment no later than 12 months of age, even if they do not have any teeth. Early examination and preventive care set your child up for success for the rest of their life, starting with the prevention of childhood cavities.
Your child should visit Dr. Marino every 6 months for regular dental cleanings and checkups. We recommend fluoride treatments twice a year along with cleanings to keep teeth their strongest. Dental sealants are also recommended because they "seal" the deep grooves in your child's teeth, preventing decay from forming in these hard-to-reach areas. Sealants last for several years, but will be monitored at your child's regular checkups.
Schedule an Appointment with Dr. Marino
Oral health is important for everyone but especially so for children as their smiles are still growing and developing. If you need to request an appointment for your child, our dentist serving Orange Park and Greater Jacksonville, FL, is ready to meet you both and get started! Call Marino Family Dentistry today at (904) 269-2185. We'll see you soon!
Get Started Today
Feel free to contact us today regarding any questions and to schedule an appointment with our dentist serving Greater Jacksonville, FL. We look forward to helping you with all your dental needs.