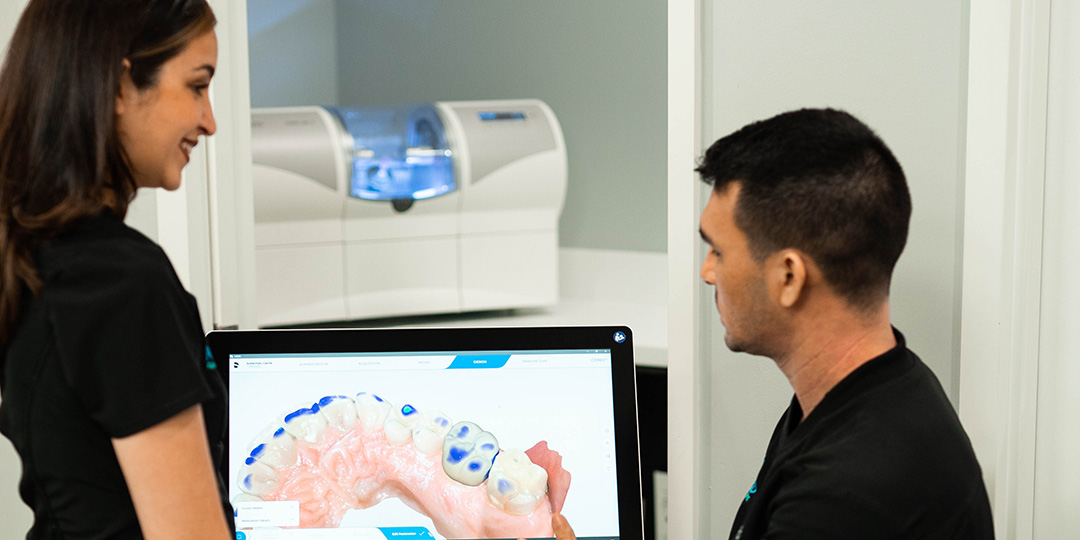 Advancements in ceramic materials and bonding techniques have made porcelain crowns more natural-looking than ever before. Whether you have a weak tooth in need of extra protection or a cavity too large for a filling, a crown from our Greater Jacksonville, FL, dentist can help provide support that also looks beautiful.
Here's what you need to know about getting a porcelain crown.
What is a Porcelain Crown?
A dental crown acts as a protective "cap" for damaged, weakened, or missing teeth. Dr. Marino will place a crown over a tooth, or dental implant, to restore shape, size, strength, and overall appearance.
Before the permanent dental crown procedure can begin, we will examine the tooth in question and determine whether other treatments need to be performed first. Dr. Marino will numb the tooth and gum tissue surrounding the tooth to make sure you're comfortable. The tooth is then reshaped to allow room for the crown to be cemented on top.
If you're interested in an even faster procedure, we also offer CEREC® same-day crowns made from strong ceramic in our Orange Park, FL, dental office.
Staying Power of a Dental Crown
When properly cared for with daily brushing and flossing as well as regularly scheduled teeth cleanings, a porcelain crown can last for up to 15 years. Of course, accidents or injuries do still happen which can affect how long you have your crown before replacement is required.
Don't hesitate to let Dr. Marino know if your crown feels loose or has been chipped. We'd be happy to make the necessary adjustments so the fit or look of the dental crown is no longer bothersome.
Make an Appointment
For the most part, porcelain crowns are used for restorative purposes. That doesn't mean they can't also be aesthetically appealing or be utilized by our dentist serving Orange Park and Greater Jacksonville, FL, for severe tooth discoloration. Call Marino Family Dentistry today at (904) 269-2185 or contact us online.
Get Started Today
Feel free to contact us today regarding any questions and to schedule an appointment with our dentist serving Greater Jacksonville, FL. We look forward to helping you with all your dental needs.