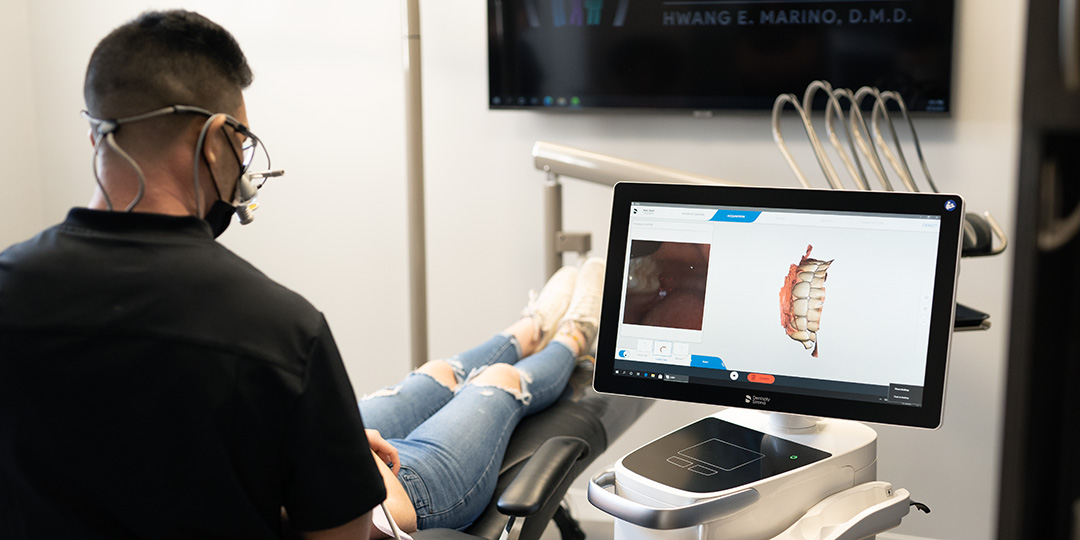 The cosmetic bonding procedure may be recommended by our Greater Jacksonville, FL, cosmetic dentist in a few different situations. Depending on what you'd like corrected, we can repair chipped, cracked, or irregularly shaped teeth with the application of tooth-colored composite resin material. Teeth with smaller gaps between them can also be fixed without the need for orthodontics.
Continue reading to learn more about cosmetic bonding.
Ways Cosmetic Bonding Can Help Your Smile
Best for smaller restorations, dental bonding involves applying, shaping, hardening, and polishing composite resin on a tooth's surface. The result is natural and visibly seamless amongst your other teeth.
Largely effective for teeth in areas of low bite pressure like front teeth, bonding does require a minimal amount of enamel to be removed by Dr. Marino. However, more of your natural tooth structure is preserved unlike with veneers.
If chosen, cosmetic bonding can:
Enhance the look of discolored teeth
Repair decayed, chipped, or cracked teeth too minor for a crown
Close spaces between teeth
Elongate the shape of teeth
Who Qualifies for Cosmetic Bonding
Teen and adult patients are welcome to undergo cosmetic bonding if they have certain reservations about their teeth. Dr. Marino will take a thorough look at your smile and assess whether this procedure, or another one, are appropriate. If you would be better served by porcelain veneers or teeth whitening, we'll be sure to discuss this with you.
In general, cosmetic bonding is intended for teeth that have experienced minor damage, already have smaller imperfections, and are not decayed. If your teeth have sustained larger injuries or are exhibiting clear symptoms of decay, Dr. Marino will have to take additional steps to care for your smile before bonding can be considered.
Give Our Office a Call Today
Compared to other related procedures, dental bonding is more affordable and not a permanent commitment. If you're interested, our cosmetic dentist serving Orange Park and Greater Jacksonville, FL, can speak with you further about the process so you're aware of every step before getting started. Call Marino Family Dentistry today at (904) 269-2185 to request an appointment.
Get Started Today
Feel free to contact us today regarding any questions and to schedule an appointment with our dentist serving Greater Jacksonville, FL. We look forward to helping you with all your dental needs.