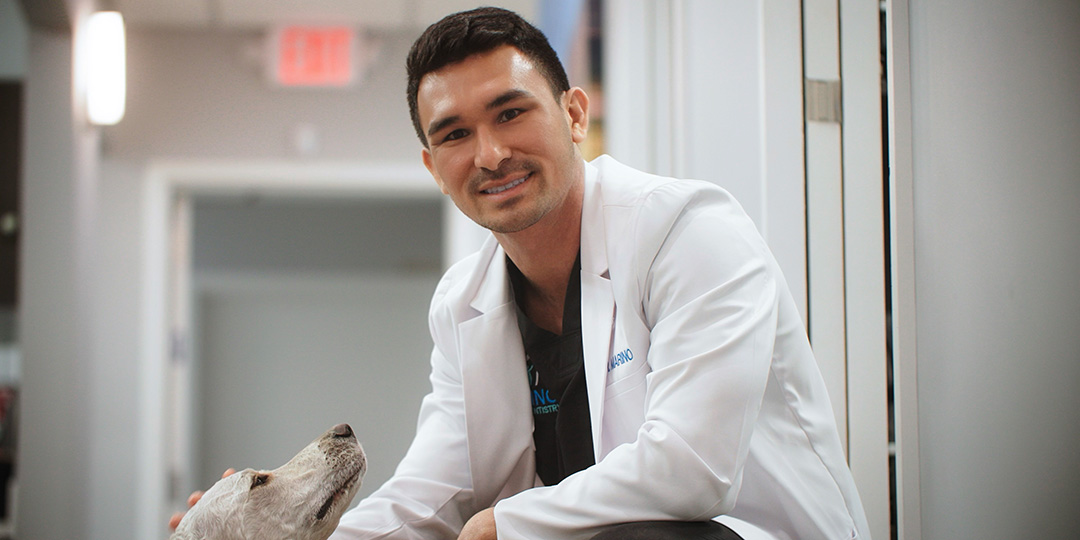 Say Hello to Dr. Hwang Marino
Dr. Marino grew up watching his parents, both physicians, care for patients and knew from an early age that he wanted to help people in the healthcare field. He didn't narrow in on dentistry until middle school. Once decided, he planned his high school years around volunteering at dental offices, shadowing local dentists, and going on medical and dental mission trips.
On trips, he helped distribute dental supplies, educate locals on oral hygiene, provide fluoride treatments, and assist with dental procedures. The places he has traveled to over the years include:
Bimini in the Bahamas
Bogotá, Colombia
Philippines
Indonesia
Kenya
Myanmar
Dominican Republic
He went to Bimini with other Orange Park dentists and on his trip to the Dominican Republic, he worked under the direction of his University of Florida dental professors as well as his classmates. His various trips working with patients further confirmed his decision on becoming a dentist.
Mission Trips
Education
After Dr. Marino graduated high school from St. Johns Country Day School, where he attended since pre-kindergarten, he attended the University of Florida earning his Bachelor of Science in Biology. He then continued on to earn his doctorate from the University of Florida College of Dentistry.
Post graduation, he worked as an Associate for a few years to gain experience. Then in 2019, an opportunity to purchase a practice arose. He had always dreamed of owning his practice and now it was finally here. This dream was spearheaded by his passion for providing outstanding patient care and a comfortable place with his patients' best interests at heart.
Philosophy
Dr. Marino's goal is to break the negative stereotype associated with visiting the dentist. He wants his patients to be happier and healthier leaving their appointments than when they first arrived. Dr. Marino also wants his patients to come back excited about improving both their oral and total body health.
Hobbies
When Dr. Marino isn't in the office, he enjoys CrossFit, playing soccer, traveling, and spending time with his mom. In 2020, he brought home Leo, a labradoodle. You can find Leo lounging around the office, visiting patients, and playing fetch with his squeaky donut toy.
Make an Appointment with Dr. Marino
Need to see our dentist serving Orange Park and Greater Jacksonville, FL? Give Marino Family Dentistry a call today at (904) 269-2185 or contact us online to schedule an appointment. We'll see you then!
Get Started Today
Feel free to contact us today regarding any questions and to schedule an appointment with our dentist serving Greater Jacksonville, FL. We look forward to helping you with all your dental needs.