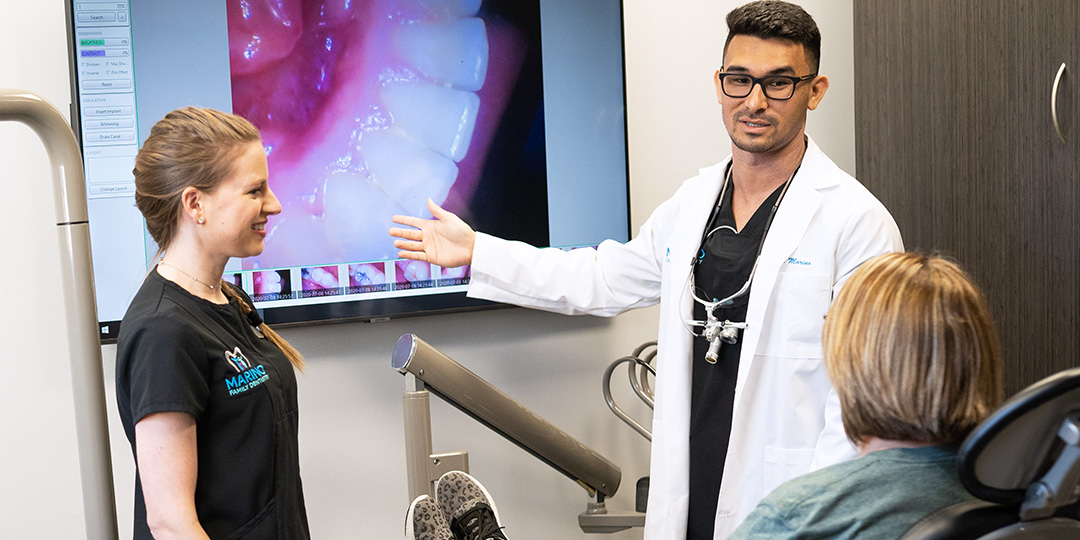 The health of your mouth is directly connected to your overall body's health. That means that if you neglect an issue with your smile, you may not be doing the rest of yourself any favors. Our Greater Jacksonville, FL, dentist can help you prevent the onset, progress, and recurrence of dental disease with teeth cleanings, oral cancer screenings, periodontal therapy, and more.
Please take a few moments to learn more about our range of preventive dental services below. If you have questions or would like to request an appointment, call Marino Family Dentistry today at (904) 269-2185.
The general standard is to receive a professional teeth cleaning every 6 months and our dentist couldn't agree more. Having you come in at least twice a year ensures your teeth are thoroughly cleaned and your mouth is checked for any arising oral health issues. Moreover, cleanings are a great opportunity to ask our team questions!
During your oral exam, our dentist and an assisting team member will perform a full examination of your teeth, gums, and other parts of your mouth. Featuring both physical and visual components, the exam may also utilize diagnostic tools such as digital X-rays and intraoral pictures.
Taking X-rays or intraoral pictures at the dentist has greatly advanced over the years thanks to digital technology. Patients are exposed to less radiation than with traditional methods, the images are higher quality, and our dentist is able to view pictures captured in real time on nearby screens. All-around easier for you and us!
It never hurts to be proactive when it comes to your health, especially if you have a higher risk of oral cancer. Our dentist recommends oral cancer screenings for patients as part of their regular checkups to catch possible symptoms before they worsen. The exam itself is quick, easy, and painless.
Cleaning every little nook and cranny of your teeth isn't always possible. That's where dental sealants come in to help you out. Designed to protect your teeth against cavities, sealants are applied by our dentist or one of our hygienists on the back molars where small pits and grooves exist on the top surfaces. This procedure is largely encouraged for children but works great for adult patients as well!
Fluoride is a mineral found naturally that can benefit your smile in a multitude of ways including building strong teeth and preventing cavities from developing. Our dentist offers quick fluoride treatments for kids and adults that are great for every 3, 6, or 12 months depending on your specific oral health situation.
From reversible gingivitis to chronic periodontitis, our dentist is here to help treat all stages of gum disease. Whereas gingival therapy can be a treatment for all degrees of periodontal disease, gingival irrigation is largely intended for patients who require a deeper cleaning to restore gum health.
If you have advanced gum disease, periodontal therapy in the form of scaling and root planing may be necessary. You can think of the procedure like a more involved teeth cleaning. Our dentist will effectively remove plaque that has built up above and below the gum line to improve the health of your gum tissue.
Tired of feeling jaw pain or dealing with headaches when you wake up? Our dentist can custom create a night guard for you to wear while you sleep. Built to prevent grinding or clenching from causing damage to your smile, the night guard will effectively provide a cushion for your jaw muscles and both sets of teeth.
Growing mouths deserve quality dental care too! That's why our dentist welcomes children of all ages to receive teeth cleanings, cavity protection, and restorative services if needed. It's always a great idea to embrace the importance of oral health early and get in the habit of keeping your smile clean.
Get Started Today
Feel free to contact us today regarding any questions and to schedule an appointment with our dentist serving Greater Jacksonville, FL. We look forward to helping you with all your dental needs.