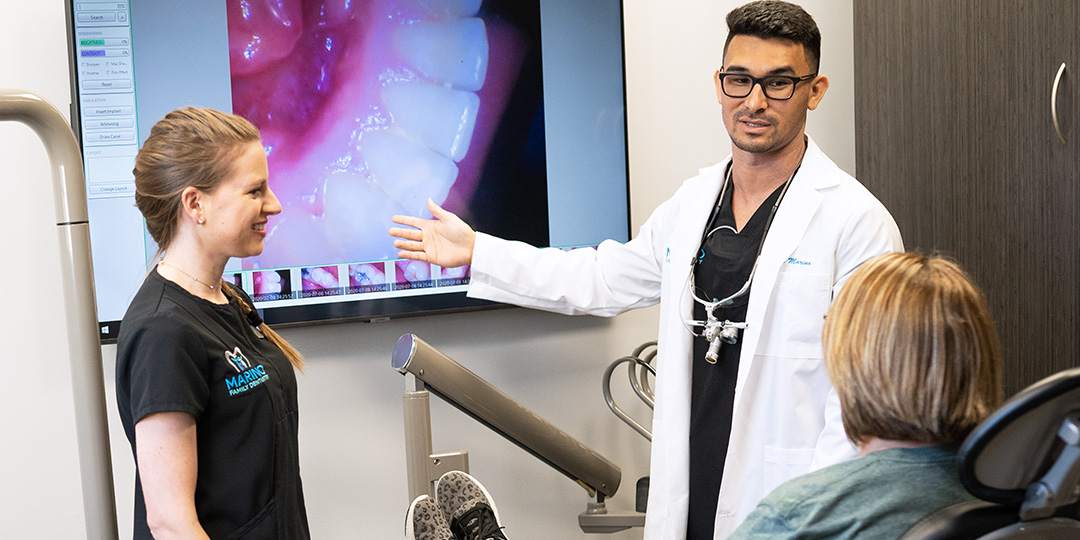 If you have advanced gum disease, periodontal therapy in the form of scaling and root planing may be necessary. You can think of the procedure like a more involved teeth cleaning. Our Greater Jacksonville, FL, dentist will effectively remove plaque that has built up above and below the gum line to improve the health of your gum tissue.
Why Do I Need Scaling and Root Planing?
This type of intensive cleaning is not just for those who are in for a routine visit. Dr. Marino will only recommend you undergo the scaling and root planing procedure if you show signs of later stage periodontal disease (periodontitis). At this point, damage to your gums, bones, and surrounding tissue may already have been done and treatment is needed.
When we see excess buildup of plaque and calculus (tartar), it's usually because a patient didn't brush at least twice a day or receive regular teeth cleanings. This neglect may not seem like much, but over time it can progress into a severe inflammatory disease that requires continued attention to manage.
Does Periodontal Therapy Hurt?
Inside of our Orange Park, FL, dental office, we strive to make sure every one of our patients is comfortable. We never want you to have a painful experience and periodontal therapy is no different.
Dr. Marino and our team will administer a topical numbing jelly first and a local anesthetic next if necessary to ensure you remain relaxed during your visit. We also offer a range of comfort dentistry services should you require additional calming methods. Ultimately, it's important to remember that procedures like scaling and root planing are designed to help restore your smile and will benefit you not only in the short-term but in the long-term as well.
Make an Appointment
Our dentist serving Orange Park and Greater Jacksonville, FL, is here to treat your smile so that you can enjoy improved gum and teeth health. When scaling and root planing is needed, we'll be sure to let you know every detail so you're not left in the dark. Call Marino Family Dentistry today at (904) 269-2185 to request an appointment.
Get Started Today
Feel free to contact us today regarding any questions and to schedule an appointment with our dentist serving Greater Jacksonville, FL. We look forward to helping you with all your dental needs.