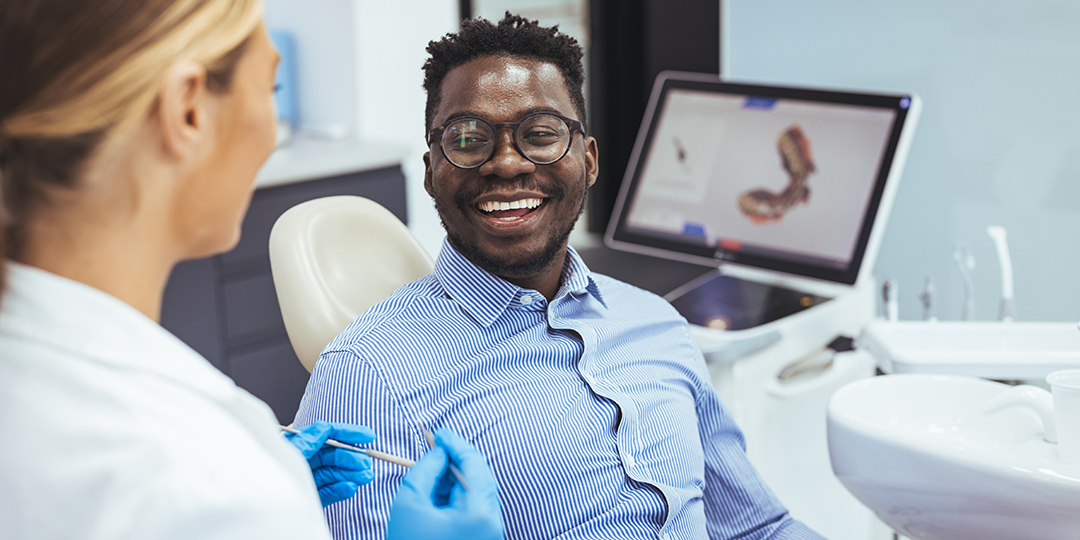 At Marino Family Dentistry, it's our goal to give you an aesthetically beautiful smile if you're not already pleased with the look you currently have. That's why our Greater Jacksonville, FL, cosmetic dentist, Dr. Marino, offers porcelain veneers to patients wanting to cover chipped, gapped, irregularly shaped, or discolored teeth.
In the meantime, here are 6 of the most popular questions about veneers as well as our expert answers.
1. Are Veneers Right for Me?
There are a few indications that you might benefit from the application of veneers. One of which is whether or not your teeth are chipped or cracked. While this type of issue can be fixed with other treatments like dental bonding, veneers are a more permanent and long-lasting solution.
Dr. Marino may also recommend the veneers procedure if you have teeth that are worn down, gapped, slightly misaligned, or unevenly shaped. For example, many patients choose to forgo metal braces or Invisalign® clear aligners in favor of veneers as they work spectacularly for smaller gaps between teeth that otherwise wouldn't require much in terms of orthodontic correction.
Note → If the gaps between your teeth are too large for veneers, we can help you explore clear aligners or refer you to a local orthodontist for braces.
Things become complicated, however, when you have widespread tooth decay or you have a history of grinding your teeth at night. If veneers are still the goal, Dr. Marino will need to completely get rid of any decay as it is not a good idea to cover that up. We can also create a night guard for you to wear once your veneers are in place to prevent damage.
2. How Long Do Porcelain Veneers Last?
Veneers are built for the long haul if you treat them well. For example, if you brush your teeth at least twice a day, floss daily, and keep up-to-date with your professional teeth cleanings inside our Orange Park, FL, dental practice, you're looking at your veneers lasting upwards of 15 years or longer.
3. What's the Upkeep for Veneers?
As mentioned in the above answer, there isn't much special care for veneers beyond regular brushing, flossing, and dental checkups. They're permanently bonded to your natural teeth so there's no need to remove them for cleaning like with dentures.
It is important that you eliminate certain behaviors or habits that can put unwanted stress on your veneers. This includes biting your nails or utensils, chewing on straws, and using your teeth as tools to open packages.
4. Does the Veneers Process Hurt?
You shouldn't feel any pain when Dr. Marino is placing veneers. Before we prepare your teeth for placement, we will administer a local anesthetic so you don't experience any discomfort as we remove a thin portion of your natural enamel to allow for the best fit.
We'll then put on temporary veneers so your teeth are not left in a vulnerable state while you wait for the permanent versions to arrive back from the dental lab. At this time, we advise you to not bite directly into anything hard while you have your temporary veneers in place.
Don't forget that comfort dentistry services like streaming, access to therapy dogs, and dental sedation are also available to enjoy during your visit if you'd like!
5. Should I Avoid Any Foods?
Depending on how many veneers you receive, you may need to take some time to get used to your new bite. Dr. Marino suggests sticking with softer foods that are easier to chew as you become accustomed to how your teeth now fit together.
Outside of this timeframe, it's wise to be careful around hard candies, ice, nuts, hard fruit, and popcorn (with kernels). You can still enjoy certain foods in this list but may need to find other ways to prepare them before eating. For example, try cutting up an apple first instead of biting into one directly.
6. How Many Veneers Are Necessary?
Every patient is different. For this reason, Dr. Marino asks that you come into the office for a proper consultation. We can closely examine your smile, discuss your goals, and determine what will look best for you.
Make an Appointment
If you're seriously considering veneers, our cosmetic dentist serving Orange Park and Greater Jacksonville, FL, happily welcomes you into our office so the discussion can begin. Call Marino Family Dentistry today at (904) 269-2185 to request an appointment.
Get Started Today
Feel free to contact us today regarding any questions and to schedule an appointment with our dentist serving Greater Jacksonville, FL. We look forward to helping you with all your dental needs.